The Muzzling of the VA's Office of Public Affairs
In the age of Trump, basic information on veterans' issues is increasingly hard to come by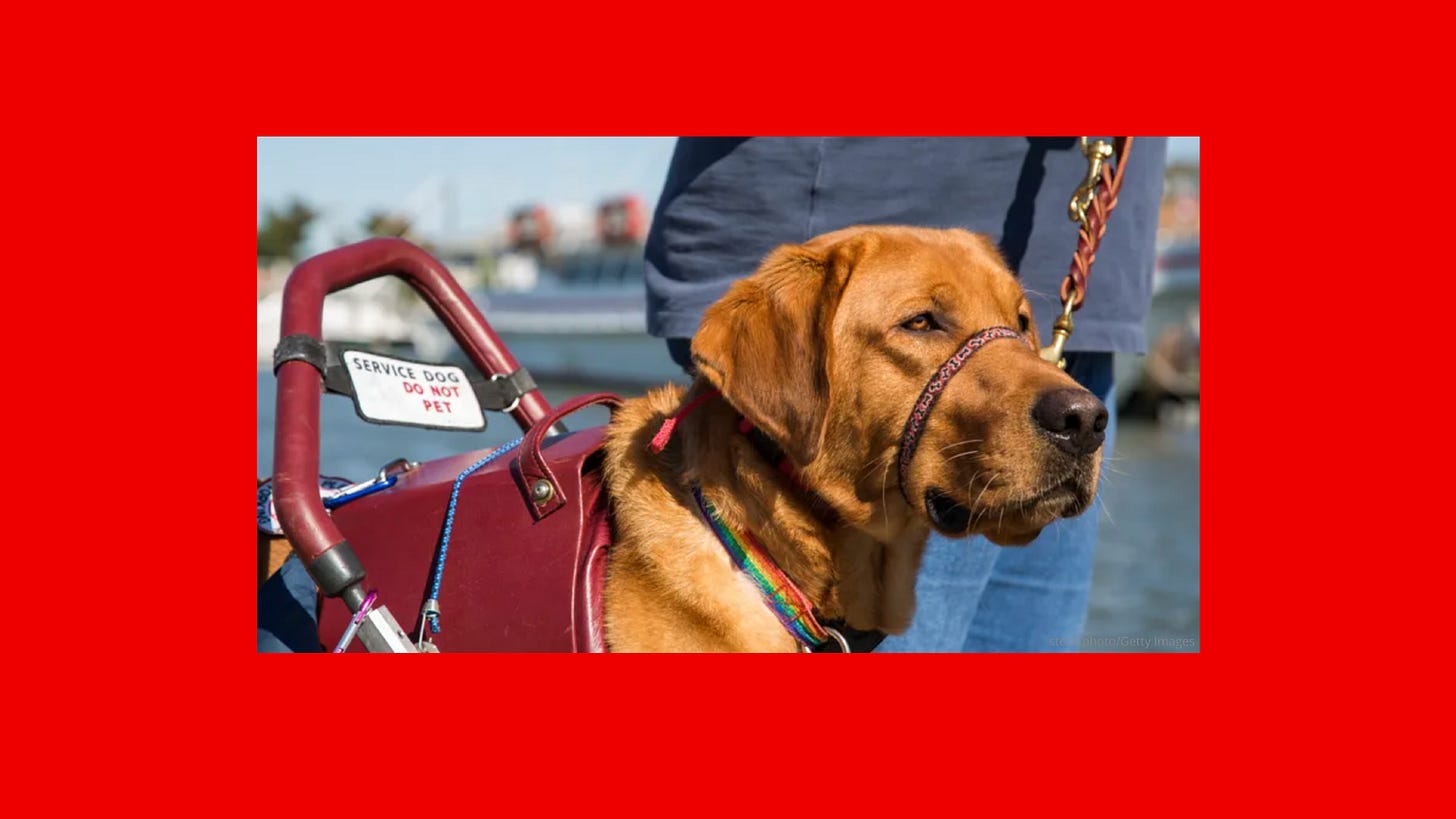 The last time I saw a press inquiry appropriately answered by the Department of Veterans Affairs (VA) was one year ago, for a story about the healing properties of puppies.
More specifically, the piece examined mounting evidence that service dogs provide therapeutic benefits to veterans with Post Traumatic Stress Disorder (PTSD). It also interrogated the VA's harsh views of man's best friend and asked why, after nearly a decade, departmental researchers still haven't concluded their own service dog study, which has been deemed the critical precursor to any policy shift in favor of the therapy.
It was only after much prodding from my dogged editor that James Hutton, a retired Army Colonel with a Legion of Merit, responded to my questions. His answers, while not entirely forthcoming, provided me helpful context. He laid out legitimate concerns about PTSD treatments without rock-solid evidence behind them, and promised that the VA's drawn-out dog study, while long and troubled, would be comprehensive and clarifying.
In short, the VA's perspective made the story better. But they haven't helped me since.
Mostly, my questions have been met with the sound of silence. On rare occasions, an inquiry is acknowledged only to be rerouted to VA Press Secretary Christina Noel, a former Marco Rubio aide who appears to have developed an "Oppositional File" on me. Rather than answer the substance of what I'm asking, Noel has repeatedly sent the same disparaging e-mail to whomever is editing me. Her template is as follows:
Hi [Editor X],

We've received a query from Jasper Craven, who claims to be a freelancer writing for [Outlet Y].

Judging by his previous work, he appears to be an opinion writer with a clear agenda (see links below).

Is he really writing for [Outlet Y]? Given his track record, it's hard to imagine that his intent is merely to report objectively.
The three pieces Noel links to — which you can read here, here, and here — were published in left-leaning outlets. But they're all deeply reported stories. Two of them were meticulously fact-checked, and neither she nor anyone else at the VA has taken issue with their accuracy.
Moreover, Noel's underlying contention in this note — that the VA's Office of Public Affairs only answers questions from journalists who demonstrate rock-hard objectivity in every move they make — is comically false. In fact, it's the honest and rigorous pack of reporters that the VA has confined to the pound.
Over the last couple weeks I've spoken to a half-dozen or so national journalists on the veterans beat. All of them expressed deep dissatisfaction with the VA's public affairs team, which, they contend, is consistently hampering their work in ways large and small. Most requested anonymity so as not to risk further jeopardizing their relationship with the department.
"There's now an emphasis to ignore questions and stifle media engagement," one long-time reporter vented to me. Another described "a distinct feeling that the press shop is fighting journalists at all times." A third observed that "the VA is happy to decline comment, even in response to the most basic questions."
This recalcitrance extends even when reporters are seeking assistance with positive stories. This is bizarre considering that oftentimes these stories were first detailed in press releases or on the VA's surprisingly awesome and active blog. While some believe this ignorance is nothing more than incompetence, others see an internal attempt to limit the spread of sunny stories. Doing so, they reason, helps perpetuate President Trump's characterization of the VA as a broken agency that only he (i.e. the private sector) can fix.
"Good news cuts against the narrative of VA failure, of VA privatization, and of the MISSION Act measures," one reporter argued. (For the uninitiated, the MISSION Act's major measure is funneling thousands of VA patients and billions of dollars into private hospitals, many of which don't know how to treat the wounds of war.)
Like Trump, the VA's Office of Public Affairs now seems to deeply value loyalty above all else. One reporter described an attitude of "vindictiveness" held by some at the top of the press shop. Spurned reporters, like myself, are all but cut off from VA spokespeople, even flacks working at local hospitals.
If Christina Noel had responded to my request to be interviewed for this story, she may have argued that it's well within the VA's right to freeze out unreliable reporters and favor those who put in the work. And I would agree.
But these days, the outlets the VA cozies up to often traffic in lies, xenophobia, and propaganda, like Fox News, Breitbart, and the Sinclair Broadcast Group. Earlier this month the VA took their dalliance with far-right news to the next level by sending VA Secretary Robert Wilkie for a news hit on One America News, a network fueled by a sludge of "Trumpy Bear" commercials and conspiracy theories, including that COVID-19 was created in a lab at the University of North Carolina.
In this interview, Wilkie underplayed the department's dubious dosing of sick VA patients with hydroxychloroquine and went unchecked when he falsely proclaimed that Trump is "the first president since the 1890s who recognized the scourge of veteran suicide." Later that day, when Wilkie held a rare call with members of the small but scrupulous VA press corps, Steve Beynon, a reporter at Stars & Stripes, challenged him on this latter claim. In a Trumpian response, Wilkie denied ever making the comment at all.
When I recently spoke to Beynon he cast Wilkie's occasional press calls as a small ray of cooperation in the VA's otherwise stormy relationship with the media. "The VA will release a few press releases, do a few phoners, but that's about it," he said. "If they provide answers to questions, they're often vague, and then they won't answer followups."
---
The VA is the second largest agency in American government, yet neither The New York Times nor the Washington Post employ a reporter who covers veterans' full-time. Luckily, the military newspaper Stars & Stripes has two.
One is Beynon; the other is Nikki Wentling. Their salaries are paid, in part, by taxpayers. Roughly $15 million in Pentagon dollars each year is set aside for the outlet, a pittance for the newspaper's ocean of output that is devoured by service members across the world. The newspaper is fiercely independent, and it's coverage is often critical of the war machine and highly attuned to veterans' issues.
A good example of the paper's great work came last summer, when Wentling went deep on the VA's dark history of restricting care and benefits to Native Americans, who've served at higher rates than any other ethnic group. In the wake of Wentling's story, lawmakers invited tribal leaders to Washington to discuss these issues for the first time in 30 years.
While this sort of impactful journalism is made more difficult by an uncooperative press shop, the entire operation is now facing an existential threat. Earlier this year, the Trump administration moved swiftly to strip funding of the military newspaper, which has been pushing out editions since its 1861 founding by a group of enterprising Union soldiers. (An online subscription to Stars & Stripes, which is cheaper than this newsletter, is available here.)
---
The Obama administration was far from perfect when it came to press relations at the VA. Spokespeople could be defensive and difficult. The previous administration also floated half-hearted plans to axe Stars & Stripes during budget sequestration talks in 2013, but quickly backed away from the proposal under pressure.
But back then, the press shop granted far more access to journalists. One of them was Suzanne Gordon, a frequent reporting partner of mine and author of two detailed books examining how the VA provides high quality care to the nation's veterans.
After expressing her desire to explore the accomplishments of a genuine, national healthcare system, Gordon received high-level approval from VA Central Office in Washington. She was then given help from VA leaders in both accessing national and local leaders and visiting facilities in Hawaii, California, Vermont, and many places in between. They also organized what she calls a series of "speed dating" interviews in DC with officials leading national initiatives on everything from pharmacy to palliative care. "They assessed my record of reporting on healthcare and they opened up their doors for me and other reporters to explore the agency," Gordon told me. "What I was writing could be quite political, but they never shut me down."
Now, Gordon sometimes faces insurmountable obstacles in trying to glean essential information from her sources, many of whom say the department has mandated silence towards members of the media.
"Everything, and I mean everything, now has to go through national VA," she told me. "A source just took my request to speak about the good the VA's done during the pandemic to headquarters, but they said he couldn't talk to me."
Gordon compared reporting on the VA to what "Woodward or Bernstein did when they met with Deep Throat in a D.C. garage." She continued: "It's incredible, I mean we're talking about amazing stories that reflect well on the VA."
---
Some believe the mastermind behind the VA's turn towards opacity is Curt Cashour, a Republican spin doctor who rose to prominence as a Congressional flack denigrating Obama's VA. A former photographer and speechwriter for Army, Cashour spent the early aughts bringing razzle-dazzle to the War In Iraq. He also sought, unsuccessfully, to sell the presidential candidacies of Mitt Romney and Scott Walker. Cashour's most effective work came in 2014 as Communications Director for the Republican-controlled House Veterans Affairs Committee.
The committee was then chaired by an affable former TV weatherman named Jeff Miller. According to Congressional sources, Miller was frustrated by his relegation to a relatively minor committee, and was desperate for air time. He got it in the summer of 2014 after tantalizing the press with allegations of deadly wait-times for VA patients at a hospital in Phoenix, Arizona. Even as Miller's most scandalous claims could not be corroborated by the Inspector General, he, and the scandal spun, dominated cable news for weeks. Cashour was pivotal in this work, phoning up reporters day and night to keep the coverage moving.
This onslaught of bad press permanently scarred the department's reputation and, for the first time, made the prospect of VA privatization politically possible. While major veterans' organizations have long defended the VA's generally good services, and were able to stifle this work for years, the Phoenix news whipped up a powerful cycle they were unprepared to counter.
In the end, Miller convinced a bipartisan coalition to come along in support of the VA Choice Act, a precursor to MISSION. (It's worth noting that Miller now works as a lobbyist securing contracts and partnerships for private companies who found new purchase after Choice was passed.)
A few months after Trump was inaugurated, Cashour became the VA press secretary. In his time on the inside, he's ignored many national media requests and frozen out a number of prominent reporters. He's also clenched an iron grip over the office, with some long-time flacks at the local and national levels no longer feeling free to speak openly beat reporters. Rather than deal with this toxic environment, a number of good spokespeople have moved for the door.
Cashour also helped mount a campaign to oust Trump's first VA Secretary, an Obama holdover named David Shulkin. According to USA Today, Cashour organized a call with Congressional staff in February 2018 during which his deputy, John Ullyot, argued for Shulkin's firing. While Cashour framed the call as necessary for a VA Secretary who'd improperly accepted Wimbledon tickets, many others felt it was a callous move to take out Shulkin simply because of his opposition to VA privatization.
In his memoir, Shulkin writes that this and other improper scheming led him to remove Cashour, but that this directive was ignored:
Curt, in my opinion, was not able to represent the VA with the media because he had lost my trust, and judging from regular and ongoing feedback from the press, he had lost their confidence as well.

Curt never left the agency. Instead, he took paid leave, probably assured by other politicals that the situation would soon resolve itself in such a way that he could return to his position.
And it did. Shulkin was fired and Cashour now serves as Deputy Assistant Secretary for Public Affairs. In an interview, Shulkin said his open approach to the press as VA Secretary was vigorously opposed by Cashour and others.
"I felt it was essential we maintain an open policy with the press but the press office was increasingly treating journalists as a hostile force," he reflected. "At a certain point, reporters would call me directly because they knew the press office was like Hotel California, you'd go in and never come out."
---
Cashour has found a more natural ally in Shulkin's replacement, Robert Wilkie. Wilkie values legacy and knows how to shape a message thanks to skills learned in the Navy as a psychological and information warfare officer. As I recently explored in The Baffler, Wilkie also worked in George W. Bush's DoD to choke off information on what was going down in Iraq. From my piece:
Three months after Bush's troop surge in Iraq, Wilkie wrote a memo that imposed unprecedented restrictions on military officers' ability to testify before Congress. This policy was seen by members of both parties as a "gag order" to prevent oversight into a war many feared was spiraling out of control. One long-time Republican aide described Wilkie's memo to the Boston Globe as "embarrassing."

As lawmakers sought to investigate conditions on the ground in Iraq, Wilkie's legislative office declined to answer at least nine Congressional requests for information pertaining to the war. The office also provided incomplete details on the U.S.- led training of Iraqi security forces, despite the fact that many of these foreign soldiers were later found to have engaged in human rights abuses and violence towards civilians.
Wilkie has similarly sought to bend and shape information inside VA to fit a positive narrative. This has been accomplished through various means, including by slowing processing times for FOIA requests to a snail's pace. In Wilkie's first full year on the job, so-called "expedited requests" went from being processed in an average of 20 days to nearly 190.
His VA has also choked off information to other key sources for journalists, namely staff on Capitol Hill and inside Veterans Service Organizations (VSOs), like the American Legion and Veterans of Foreign Wars. This work comes in many forms, and includes: revoking a long-standing policy that allowed accredited officers at the VFW and American Legion to review veterans' disability claims before they were finalized, slowing communications and curtailing VA site visits by Congressional staff, and generally shrinking the amount of time spent meeting with Hill staff and veterans' advocates.
This batty behavior occurs even during high-stakes work, like the MISSION Act roll-out, when departmental officials refused to offer clarity on rules designating when VA patients are sent to the private sector. "When your staff comes over without their act together and no semblance of transparency, that reflects on VA leadership," Sen. John Boozman, R-Ark. made clear to Wilkie in 2018 as the rule-making process moved forward in secrecy.
Further complicating VA oversight is departmental data that is often of poor quality or not available at all. The VA's recently established Office of Accountability and Whistleblower Protection, for instance, has indiscriminately fired thousands of front-line VA employees. But at the end of 2018, the office stopped publicly releasing firing data after it surfaced in stories questioning the office's efficacy. Trump's VA has also fudged around with the veteran suicide numbers in a way that makes it difficult to compare trends year-over-year. Similarly, the VA now wipes clean its COVID-19 numbers at the end of each day, which makes tracking the virus' toll on vets virtually impossible. Thankfully, Military Times reporter Leo Shane has taken on the thankless task of crunching and visualizing this data for the public.
---
The end goal of this obstruction, obfuscation, and unbridled obedience to Trump is clear: successfully conjure a false reality. It's hard to delineate when this behavior morphs from agressive political spin to out-right propaganda. But as the VA continues to cut off air to good thorough journalists, many false claims have circulated without being questioned. This was recently witnessed when Wilkie appeared on a Fox News podcast with conservative comedian named Jimmy Failla, who is best known for a prank video called "Snakes in a Cab."
Wilkie was allowed to make numerous dubious claims in his appearance, largely because Failla has no real VA policy chops. Yet in Wilkie's eyes, Failla appeared a paragon of honest journalism. "You know more about us and veterans' issues than the vast majority of people who tell me they are experts," he said. 
At one point in the interview, Wilkie complained to Failla about reporters' tough questioning during this pandemic, saying "it is the hardest thing to do to keep your cool because, you know, they'll ask the same question five different times. And they expect normal people, by the third time, to get upset and say 'We'll you've already asked me that.'" These comments bluntly demonstrated Wilkie's fundamental misreading of what the press wants. We don't want officials to get upset by what we're asking, we want officials to answer what we've asked.