Discover more from Battle Borne
News, analysis, and investigation on veterans' issues in the age of Forever Wars.
Over 1,000 subscribers
Mission Roll Call Claims To Speak For More Than One Million Veterans. What Is It Saying?
The newest veterans' group on the block is also the most opaque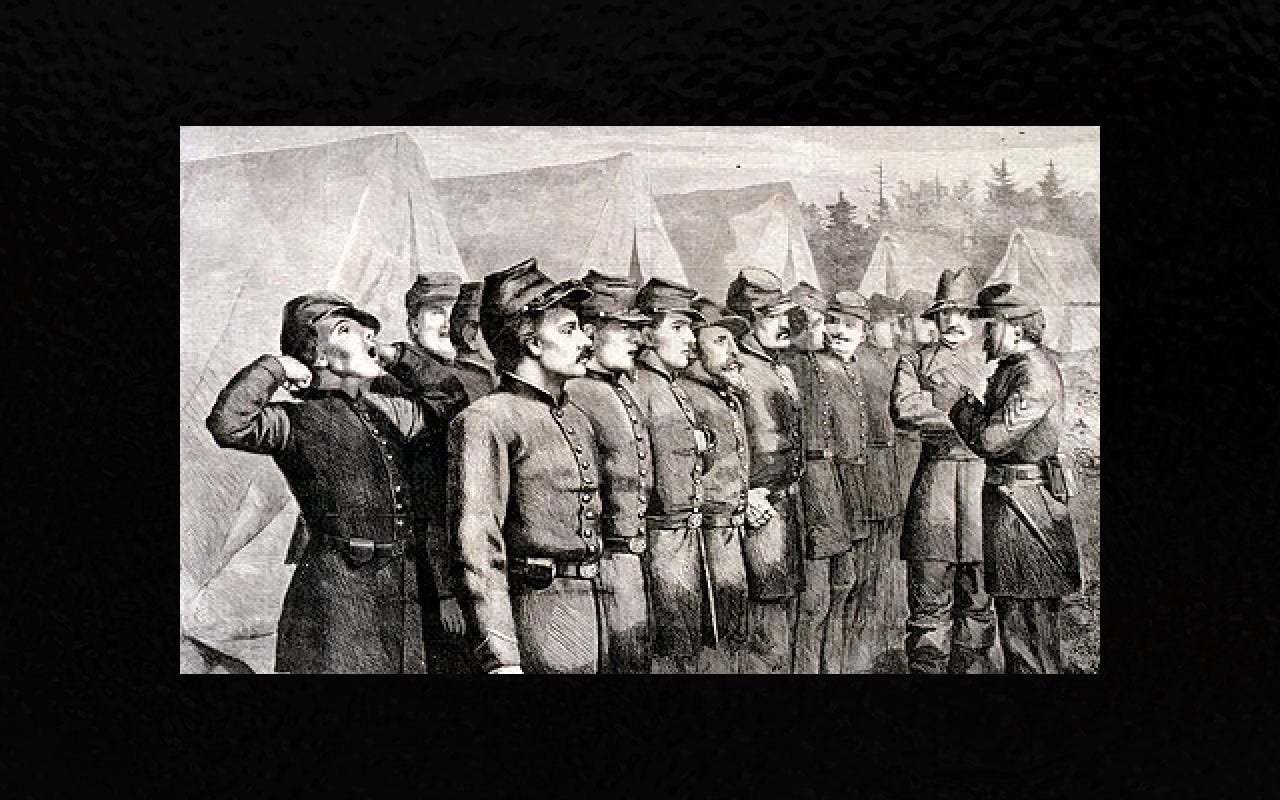 Last June, a former Army Cavalry Officer named Garrett Cathcart went on Fox News to discuss his slick new veterans' organization—Mission Roll Call (MRC). While fresh on the scene, Cathcart explained that Roll Call was undertaking an "ambitious endeavor:" to connect with, and subsequently speak for, the nearly 10 million American veterans who currently don't belong to any veterans' group.
Fox's Jon Scott seemed intrigued by Roll Call's work but confused by, well, its mission.
"The idea is you wanna get veterans involved in…what?" he asked. "Domestic politics?"
"Not politics," Cathcart made clear. "We are a non-partisan, non-profit organization."
"So you're not trying to get veterans to vote Democrat or Republican?"
"Not at all," Cathcart explained. He went on:
The idea is: How can we have a conversation about the veteran community — and what's important to them and how to help solve some of their challenges — if half the people aren't even in the room, right?

…

A lot of folks aren't connected [to veterans groups] just frankly because they're living their lives and they don't self-identify as a veteran, maybe because of a negative narrative about veterans which we're also trying to, you know, bring forth, the real mater—ver — correction: the real, uh, narrative that veterans are assets to the community and they are out their leading and making their communities better. And frankly when they do that the community is better and the country is better.
Such vague platitudes are part and parcel of Mission Roll Call's identity. Even as unspecified promises and imprecise praise are a signature of the veteran policy space, MRC's messaging stands out for its overwhelming blandness:
To be fair, Cathcart did describe one tangible effort on Fox, a petition urging lawmakers "figure out how to solve veteran suicide." While the letter expresses some noble goals, it offers no tangible ideas on how to move forward and fails to acknowledge a plethora of active proposals and enacted laws that earnestly aim to address this crisis.
By far the most impressive part of MRC's petition is its number of signatories. So far, more than 200,000 veterans from all 50 states have signed onto the letter, a whopping number that, according to Cathcart, caught the attention of Congressional leaders in both chambers. (On Twitter and Facebook, MRC has similarly racked up massive followings that greatly outgun even the biggest players in the space, like The American Legion and the VFW.)
Mission Roll Call's out-of-the-blue appearance and swift growth is remarkable. And the fact that the group's power has accrued without any clear ideology is bizarre. "Why does it exist?" you might ask. Frankly, I'm not totally sure. But after spending Too Much Time™ digging into the organization's coded messages and financial backing, a few potential motives have come into focus.
---
On tax forms, Mission Roll Call describes itself as an "electronic community" pushing policy changes on the local, state and federal levels.
While its goal is to harness the power of 10 million veterans, MRC employs just three people, including Cathcart. It's nestled inside America's Warrior Partnership (AWP), a well-heeled non-profit that connects struggling veterans with healthcare and social services. AWP is run by Jim Lorraine, a former Air Force flight nurse who went on to serve under Presidents Bush and Obama as director of care programs for the Defense Department's Special Operations Command. The non-profit's board is filled with finance types and former government officials, including Thomas Bowman, who recently retired as the Deputy Undersecretary for the Department of Veterans Affairs (VA).
In an e-mail, Roll Call Operations Manager Patrick Griffith told me the idea for the group was hatched when Cathcart, Lorraine, and an unspecified Medal of Honor recipient struck up conversation at an unspecified veteran retreat.
"We had the idea of creating a digital grassroots organization focused on garnering a large social media and email following to begin to connect with veterans and their families and ensure their voices are being heard," Griffith wrote. "Jim said he would make MRC a program of AWP and Garrett would run the concept."
It's unclear from public documents what Roll Call's annual budget is, and Griffith didn't elaborate on this topic when I asked. A knowledgable source told me, however, that MRC is tied to one of AWP's major donors: Home Depot co-founder Bernie Marcus. Through his personal wealth, as well as his Home Depot Foundation, Marcus has generously backed AWP for years. It's unclear exactly how much Marcus has given, but it was enough for the non-profit to present him with their leadership award a few years back.
Griffith declined to comment directly on whether Marcus was involved in the fledgling group, but Cathcart has long existed in the billionaire businessman's orbit. Before founding MRC, he worked in a senior role at Team, Red, White and Blue (RWB), a veterans group funded in large part by the Home Depot Foundation. (In a recent podcast interview, Cathcart revealed that, during his time at RWB, he had moved to Atlanta specifically because "some of our biggest donors are in Atlanta — the founders of the Home Depot.")
Marcus is no stranger to the veterans space. Over many years, he has donated massive amounts of money to veterans' organizations of all stripes, including older membership-based groups like the VFW and Vietnam Veterans of America. Home Depot, meanwhile, runs a huge veteran employment program and its foundation has donated a whopping half-billion dollars to veterans' issues since 2011. (A small *asterisk* on this giving: much of it came in the the form of Home Depot gift cards).
Another major recipient of Marcus' cash is President Donald Trump. In 2016 alone, Marcus shelled out nearly $10 million on campaign efforts, making him The Donald's second biggest backer. According to reporter Eli Clifton, Marcus is quite hawkish, and appears to have played an instrumental role in pushing Trump to rip up the nuclear deal with Iran, a country the Home Depot co-founder has compared to "the devil."
Some initially saw Roll Call shaping up to be an explicitly political organization that would serve, in the words of one source, as a "right-wing counter" to anti-Trump voices.
Early on, MRC consulted quietly with Mark Lucas, a former executive director at the Koch-backed group Concerned Veterans of America (CVA). Like Roll Call, CVA quickly materialized out of nowhere. This group first found its footing in 2014 when a crew of smart and savvy politicos led by Pete Hegseth spun a VA wait-time scandal in Phoenix into a massive VA outsourcing law know as the Choice Act. (More recently, CVA has taken up the cause of ending the Forever Wars.)
Due to Marcus' militancy towards much of the Middle East and Iran, some speculated that Mission Roll Call would become a tool for him to oppose peace and spoil for war.
For unclear reasons, this work appears to have been abandoned, or at least put on pause. MRC's Griffith said the group hasn't taken a stance on ongoing efforts to withdraw troops from the Middle East, and he did not provide Cathcart to speak on the group's overarching vision.
---
So far, Mission Roll Call has focused exclusively on one domestic issue: the veteran suicide epidemic. While the group's specific take on this crisis is hard to parse, underlying many of its messages is a disdain for VA care. Take, for instance, this video celebrating the group's one-year anniversary:
Among the many vague proclamations are a few specific anecdotes bashing the department. In one scene, an Army veteran named Ben Nelson claims VA staff "looked at me and said, 'We don't have any treatment for you, we have nothing." Another vet named Joel Jeffrey said, "You almost have to be, like, at the breaking point for their to be urgency."
In an e-mail, Griffith told me:
We ask a lot of veterans we talk to about their healthcare experiences and the VA inevitably comes up. Experiences have run the gamut from great to good to mediocre to terribly negligent.  
The VA is far from perfect. Some veterans experience bad care, or long wait times, or ineffective treatment. But study after study (after study) shows the VA generally outperforms the private sector on essentially every metric. It remains the best overall health system for treating the many unique physical and mental wounds in the veteran community.
Yet despite much positive work done by the VA — as well as some private sector partners — the veteran suicide rate has not budged for years.
This ongoing emergency has inspired a burgeoning industry of private groups claiming to have a magic potion for the problem. Some are solid, others are not. Many — including some snake oil salesmen — have found a welcoming ally in Trump, whose VA has awarded them contracts and partnerships that confer money and/or credibility.
Again, to be clear: some of these private practitioners know what they're doing. Some may even have developed strategies that the VA should adopt. But as the most recent data shows, veterans outside the VA are far more likely to kill themselves than those who receive care inside departmental walls. A comprehensive study released this month found that veterans far prefer VA mental health care to what's being offered in the private sector.
While reporting a 2018 story into dubious veteran mental health treatments I spoke to Dr. Matthew Friedman, a clinical psychiatrist and one of the founders of the VA's National Center for PTSD. He told me he'd recently witnessed an uptick in "self-proclaimed magicians" hocking evidence-free treatments:
The answer is: If it hasn't been proven, it's not something the VA should endorse. They should live by the same rules other treatments live by; they should be tested in rigorous, randomized clinical trials. That's the coin of the realm. And if they haven't done that … stay away, baby. Stay away.
---
On the other side of Friedman's argument are those who believe private sector innovation and experimentation is desperately needed in this fight. As best I can tell, Bernie Marcus, Garrett Cathcart, and Jim Lorraine all subscribe to this theory.
So, too, does AWP's Chairman Tim McClain, a former VA General Counsel in the early aughts who later moved to the private sector as President of "Government Business" for Humana. On McClain's watch, the health insurance giant set up a veterans healthcare division. Then, in 2007, it was awarded a sizable VA contract to coordinate veterans' private sector care in 23 states.
This pilot set the stage for much larger privatization efforts, including the Choice Act and Trump's own, even larger privatizing law, The MISSION Act.
AWP has been a steadfast ally of the Trump administration in this outsourcing, especially when it comes to mental healthcare. The non-profit partnered with Trump, for instance, on the PREVENTS Suicide Task Force, which recommended more community mental health care, and helped shape and push another Trump priority: the IMPROVE Well-Being for Veterans Act.
As my reporting partner Suzanne Gordon and I recently wrote for The American Prospect, IMPROVE has raised eyebrows among a diverse coalition of veterans' advocates, including Disabled American Veterans, The American Legion, and The American Psychological Association for numerous reasons, including that it would establish a new pathway to unaccountable private care.
One of, if not the only policy Mission Roll Call has expressed support for is a new suicide prevention bill — The Commander John Scott Hannon Veterans Mental Health Care Improvement Act — that has also raised concerns among some advocates for statutes that outsource VA mental healthcare.
Last summer, AWP's Lorraine penned an op-ed praising community mental healthcare as the best around:
We applaud the president and Congress for taking action to give service providers the support they need to eliminate veteran suicide. Emphasizing community-based services has been the key to success in improving veterans' quality of life in countless areas around the country, so we strongly urge lawmakers to continue supporting the creation of more collaborative communities that focus on veterans, their families and caregivers
Left unsaid in Lorraine's op-ed is that AWP has developed a proprietary software called WarriorServe that "streamlines the collection and analysis of critical warrior information" so that private sector entities can identify and reach out to veterans in need.
In a 2018 interview with Fast Company, Lorraine pitched the program as a whip-fast, reliable tool that helps untold numbers of veterans in crisis. "We can move from fishing for those veterans who might take their life, to hunting for [them]," he said. In some cases, it appears that the WarriorServe formula connects veterans to the VA; in other instances, private groups swoop in.
I have no evidence to cast doubt on the program's efficacy. After all, the AWP website promotes its ability to "attack inefficiency," and that sounds pretty good.
But I can't escape a feeling of unease over a private group developing and selling crisis algorithms that allow private companies to hunt down and help struggling veterans. Among my many questions regarding WarriorServe—which AWP did not answer — include: What's the deal with privacy? If a community group/non-profit/company intervenes with a vet, what's the likelihood this vet open to receiving care? When does the WarriorServe system recommend the VA and when is a private care option suggested? How are private care options vetted? Are they all free? If some cost money, how much are we talking?
---
A number of AWP's partners and donors are primed to benefit from the outsourcing of VA mental healthcare.
They include: TriWest Healthcare Alliance, which, despite a shoddy and expensive work history, has earned billions in federal contracts to coordinate care between the VA and the private sector; The Independence Fund, a charity that runs a veteran mental health program called Operation Resiliency; and the Cohen Veterans Network, which operates a national mental health system funded by a dubious hedge fund titan. (Both the Cohen Network and The Independence Fund already enjoy VA partnerships.)
Then there's Marcus, who has endowed a veteran-specific institute of brain health at the University of Colorado Boulder and last September announced plans to open a Cohen-style national treatment network to serve veterans with mental trauma.
In his foundational giving, Marcus has funneled money into a number of other private sector veterans' mental health care efforts. One recipient is the Boulder Crest Retreat, which has received at least $40,000 in Home Depot gift cards from the company foundation. As I've previously reported, Boulder Crest— which has also forged a VA partnership — offers treatments meant to promote "post-traumatic growth."
Some scientists are skeptical of the theory that trauma can in and of itself spur positive changes, and a 2018 study into related treatments described any benefits as "illusory." Boulder Crest's own 18-month longitudinal study — which was backed by more than $1 million from the Marcus Foundation — has netted largely positive results. Still, as I've reported, this study was not peer-reviewed, had no control group, and is far from conclusive.
In a curious twist, Mission Roll Call recently jumped on the Post-Traumatic Growth bandwagon in this video featuring Michael Waltz, the first Green Beret to serve in Congress:
I take Cathcart, Lorraine, and Marcus at their word when they promulgate the idea that only the private sector, through sheer force of capitalism, can innovate new and effective treatments to stem the veteran suicide crisis.
But it remains difficult for me to believe that a private entity — no matter its size, savvy, or budget — can come anywhere close to the VA in addressing and studying this overwhelmingly complex issue.
The department, for all its warts, is filled with thousands of well-trained clinicians, agressive researchers, dedicated support staff, and compassionate volunteers putting in untold amounts of time to solve this problems. The VA now also runs two national centers focused on developing pioneering treatments for PTSD and traumatic brain injuries. One of the many pioneering researchers in this work is Dr. Ann Mckee, a badass TIME 100 brain scientist who basically discovered CTE in football players.
On its sparsely populated website, Mission Roll Call declares that the collective veteran voice is "one of the most valuable" in America. It also demands that vets no longer be silenced and ignored. As such, I expect MRC to soon roll out splashy and agressive campaigns that reflect veterans' overwhelming desires to end the Forever Wars and support the VA. What a powerful movement that will be.